Prevent Cancer, reduce high blood pressure, reduce acne with these tips
Read about some new tips to prevent cancer, reduce high blood pressure that could stoke a stroke and eliminate acne.
Alex Crawford, the editor of Lather, Scrubbed & Loved Magazine has really removed all of the clutter and got to the point of
some great topics that will help you with daily living habits which will increase your level of living by preventing potential stroke, preventing cancer by eating these certain foods and how to eat them, and lastly ways to eliminate acne. If acne is not managed, over the years scarring can take the place. 
Here are some of the great reads to implement: 
3 Beach Bag Must Haves – what's in your beach bag?
Fight Disease with Olive Oil – I found this article really informative
Roasted Beet Salad with Goat Cheese – I made this and it was delicious!
Plant Therapy – Cannabis Sativa – Pot without the delirium. If this were available like it is today, I would have implemented this for my son Carson. I believe this is helpful. See what  you think and let us know after you read it.
Beating Joint Blues with BLU – a new treatment that you can do at home to clean out and brighten acneic skin.
Did you know that we subject our children to potential danger taking them to the beach?
Most cancer stems from being exposed to the direct sunlight at the beach, the pool and anywhere that skin wasn't exposed without sunscreen. The heat and UVA and UVB direct rays are so harmful that the sensitive skin could be starting already before the age of 10 due to sun exposure. Use sunscreen that has an SPF 30 or above.
Sunscreen only works when it is applied multiple times during the sun exposure. If you are in the water it will go away except now we are killing fish with the sunscreens. I was recently at Fenwick Island which was heavenly during my stay with friends.
I used to stay hours from 9:00 a.m. to 6:00 p.m. just laying in the sun or swimming in the water. Not anymore, I have to dive under the canopy to take a reprieve from the intense heat. My feet were screaming because the sand was so hot. I had sunscreen, I had moisturizer and I still got burnt because I didn't reapply right away. I fell asleep and my back and shoulders are sore to the touch. Looking around to the other beach goers, I was stunned to see that they brought their dogs. Some big dogs and some little dogs. I was looking for water bowls and didn't see any. I was looking for the babies and their mamas to put on sunscreen. I hope they did because I had to look away. Knowing what I know about preventing cancer at such an early age with babies and children could be dangerous for those babies.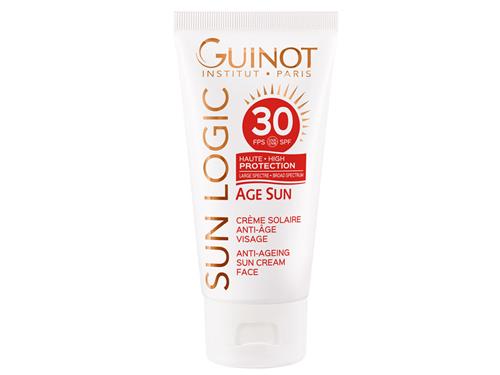 Guinot Sun Logic Anti-Ageing Sun Cream SPF 30 protects and repairs sun damaged skin.
This advanced sunscreen prepares skin for sun exposure, protects during sun exposure and repairs afterward. The powerful sunscreen prevents photoaging and protects against blue light exposure while also infusing skin with anti-aging ingredients. Arnica balances capillaries and elastin while vegetable-derived melanin protects from blue light. Elastoprotectin, extracted from witch hazel, prevents the breakdown of tissues to protect elastin fibers and prevent wrinkles. Protect your skin against aging and sun damage with Guinot Sun Logic Anti-Ageing Sun Cream SPF 30 – $43.00 Smells like orange sickle.
All sunscreen should be applied BEFORE you hit the beach, AFTER you get out of the water, BEFORE you go to bed or go out for the night to prevent damage. We use two types of sunscreen that we agree with:
Rhonda Allison Daytime Defense SPF 30 – excellent for moisturizing and for protection from UVA and UVB – A great daily daytime defense with UV protection of SPF 30. Protects your skin from environmental damage and provides soothing and moisturizing benefits throughout the day. Broad-spectrum sunscreen for your face and neck helps provide the best in antioxidant protection. Recommended for all skin types. $23.00
All of our sunscreens are available at our Indulge Salon 970 S George St, York Pa 17403  or Call 717.846.4424 or Georgia location at 1104 market st, Greensboro, GA 30642