South York Salon
Hi my name is Kimberly Acworth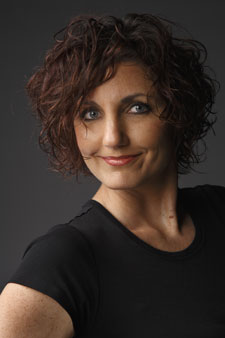 Welcome to the world of Indulge – a Colour Salon 180º Degrees from Ordinary™ – and home to our exclusive line of body care products called Indulge Pure Originals™, as well as our newest venture, Indulge Luxury Imports™.
When I first got involved in this fascinating business, I attended beauty school as a means to pay for a business degree. I wanted to be the CEO of a Fortune 500 company. After working for some really great salons, however, I saw a missing link in the beauty industry – and visualized Indulge. I wanted to take the specialty of hair color to a completely new level of expertise.
So I studied everywhere and when I could – in the U.S. (even Alaska) and Europe – to learn more defined techniques in the art of color correction. I mastered blonding so I could produce specific shades, tints and highlights without the damage that can sometimes occur. In fact today I absolutely love fixing orange brassy hair. Bring it on!
In 2017, I became certified in Organic Hair Colour Systems. The science behind organic color is based on keeping the hair healthy without the wheat, gluten free and utilizing plant vs chemicals to process the hair. The hair is significantly healthier over the longevity of the hair.
I've also been taught by the best in the French and Japanese hair cutting systems, as well as French Balayage Highlights (which essentially means hair painting). And when it comes to hair extensions I think we are unsurpassed.
Along the way I've had some great experiences. . .competing in a Fastest Foiling contest in L.A.. . .personally working with celebrity style-maker Frederic Fekkai in New York City on advance coloring techniques (yes, he's that gorgeous in person!) . . .taking art classes to fine-tune my own color perceptions. I'm also proud of the fact I've been featured in Modern Salon Magazine and Sophisticate's Hairstyle Guide.
Our success is nurtured by continuing education for every member of the Indulge team. We've flown in educators and renowned stylists from Paris, Scotland, Canada, Atlanta and New York. Plus I personally train each Indulge team member, honing every technique from the shampoo sink to custom designing color solutions, and testing to ensure each step is fully mastered.
Every stylist understands what it takes to work at Indulge. We take pride in our passion and creativity, take time to listen, and only use the most advanced, safest and best products available in our industry. We work as one, so our clients can expect consistent, professional consultation and service. . .and results they will love. That's our guarantee.
To stay in tune with the world of business I also attend advanced classes, have numerous certificates from Strategies Publishing on salon management, and am fortunate to have mentors from a variety of different backgrounds – including those Fortune 500 companies! I would never have been successful without the true support of my team of business professionals who make us look good. . .thanks to their expertise.
All of us at Indulge hope you enjoy our website. Come back often, as we're always adding new information and advice about products and trends.
See you soon!
---
Hi my name is Taylor, Stylist
I have been a cosmetologist for three years. I've trained under Kimberly Acworth by assisting her right after beauty school then worked with my own clients for two years then left and came back. I've worked for other salons but found that I enjoy the intimate relationships with my clients that love balayage sun kissed highlights, ombre' highlighting, lowlighting, foil highlghting with multi-dimensional colors.  Rainbow hair colors and fixing blondes that turn brassy orange are fun to work with. My favorite hair  color tones to work with are blondes such as the creamy beige colors, natural looking blondes, butterscotch. I like trying different tones on my highlighted clients. Melding colors have been fun on long hair. Book an appointment here. 
Other services that I provide are men's haircuts, clipper cutting, Brazilian Blowout Keratin treatments for curly frizzy hair, braiding, tape in hair extensions, hair extension removal with clamps, and blow dry styling. I perform eyebrow waxing, upper lip, chin waxing and like helping creating the perfect eyebrows with makeup. I can teach you how to have natural looking makeup for prom, evening out or a professional day time look.
I've trained on Organic hair color systems. I like the natural approach to hair color vs the traditional color for my clients that enjoy a more organic lifestyle.
I've atttended many trainings that pertain to haircutting, styling long hair, curling long hair. This year has been many beach waves with tongs and intertwining the curls with a curling iron. If you love your hair straight with lots of shine, I enjoy the flat ironing process to make it look perfect. Braids are fun too!
In my spare time, I spend time with my family at the beach, by the pool and hanging out. My career is all about advancing my skills in cutting and coloring.
---
Hi my name is India, Stylist, Assistant to Kimberly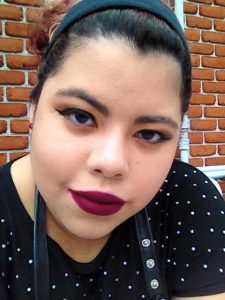 I graduated from beauty school about two years ago but didn't choose to work on the chair right away. I've worked in customer service at Noodles & Co, Subway as a sub artist.
I like working my way onto the chair by assisting Kimberly with hair color application, shampooing and preparing clients for services. This allows me a more systematic approach of being consistent with my skills in applying color for Kimberly until I build up the confidence to be on my own with haircutting and coloring formulation.
I like blow drying and styling hair. I assist with Brazilian blowouts with Kimberly. If you need help with product usage, please feel free to ask for me. I prepare all of Kimberly's clients for Organic hair color before their color is applied.
I work during the week Monday through Saturday. My hours are normally during the day. I have a quieter personality that allows me to listen to you when you are talking.
When you come in, I will greet you then escort you into  changing for your ervices.
In my spare time, I have dogs that need my play time. I like hiking and being with my friends.
---
Hi my name is AJ (Ajayla) Front Desk Coordinator
I started my career in Farmington at the Nemacolin Woodlands Spa. I worked with guests in the hotel making reservations. I moved back to York, Pa to help with my grandmother. Working at Indulge Salon, York, Pa has provided the opportunity to learn about the salon/spa industry.
I enjoy working with my Indulge team. They have helped me learn about skin care services, highlighting services, hair coloring, hair extensions, facials, chemical peels, and nail services. I had the privilege of working with some professional skin care products Rhonda Allison and Guinot products that are designed to solve skin care problems.
I look forward to getting to know you. I'm the happy person on the other end of the phone asking you all kinds of questions so that I can best serve you. I'm running all over the place making sure you are taking care of when you visit our salon. My schedule Monday through Saturday during the day. You can always reach me on South George St.
In my spare time, I spend my time with my large family on Sunday get together's, my boyfriend, my new dog and grandmother.
---