South York Salon
Hi I'm Kimberly

Hi I'm Amanda
Hi my name is Kimberly Acworth.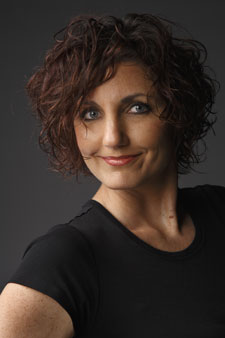 Welcome to the world of Indulge – a Colour Salon 180º Degrees from Ordinary™ – and home to our exclusive line of body care products called Indulge Pure Originals™, as well as our newest venture, Indulge Luxury Imports™.
When I first got involved in this fascinating business, I attended beauty school as a means to pay for a business degree. I wanted to be the CEO of a Fortune 500 company. After working for some really great salons, however, I saw a missing link in the beauty industry – and visualized Indulge. I wanted to take the specialty of hair color to a completely new level of expertise.
So I studied everywhere and when I could – in the U.S. (even Alaska) and Europe – to learn more defined techniques in the art of color correction. I mastered blonding so I could produce specific shades, tints and highlights without the damage that can sometimes occur. In fact today I absolutely love fixing orange brassy hair. Bring it on!
In 2017, I became certified in Organic Hair Colour Systems. The science behind organic color is based on keeping the hair healthy without the wheat, gluten free and utilizing plant vs chemicals to process the hair. The hair is significantly healthier over the longevity of the hair.
I've also been taught by the best in the French and Japanese hair cutting systems, as well as French Balayage Highlights (which essentially means hair painting). And when it comes to hair extensions I think we are unsurpassed.
Along the way I've had some great experiences. . .competing in a Fastest Foiling contest in L.A.. . .personally working with celebrity style-maker Frederic Fekkai in New York City on advance coloring techniques (yes, he's that gorgeous in person!) . . .taking art classes to fine-tune my own color perceptions. I'm also proud of the fact I've been featured in Modern Salon Magazine and Sophisticate's Hairstyle Guide.
Our success is nurtured by continuing education for every member of the Indulge team. We've flown in educators and renowned stylists from Paris, Scotland, Canada, Atlanta and New York. Plus I personally train each Indulge team member, honing every technique from the shampoo sink to custom designing color solutions, and testing to ensure each step is fully mastered.
Every stylist understands what it takes to work at Indulge. We take pride in our passion and creativity, take time to listen, and only use the most advanced, safest and best products available in our industry. We work as one, so our clients can expect consistent, professional consultation and service. . .and results they will love. That's our guarantee.
To stay in tune with the world of business I also attend advanced classes, have numerous certificates from Strategies Publishing on salon management, and am fortunate to have mentors from a variety of different backgrounds – including those Fortune 500 companies! I would never have been successful without the true support of my team of business professionals who make us look good. . .thanks to their expertise.
All of us at Indulge hope you enjoy our website. Come back often, as we're always adding new information and advice about products and trends.
See you soon!
---
Hi, my name is Marlin 
I've been a stylist for 17 years and have a background in competition, editorial and runway styling. I've have competed in several prestigious competitions, such as the North American Hairstyling Awards (NAHA), the Wella Trend Vision competition and the Goldwell Color Zoom competition.
I began my career in New York, where I've assisted backstage during the Mercedes-Benz Fashion Week, working alongside some of the industry's top talent. As a nationally-renowned beauty expert, I've authored over 1,200 articles for a variety of publications and have been a contributor for Yahoo!, AXS.com, and Suite101.com, where I've spent two years as Beauty Editor. I'm also the author of "Blow Me: Hairy Adventures in the Salon Industry" (Urban Edge Publishing, 2015) and his television credits include My Big Fat American Gypsy Wedding (TLC, 2016) and Jerseylicious (Style Network, 2012).
My specialties are razor cutting, fusion, clamp hair extensions and corrective hair color. Haircoloring includes balayage highlights, blending and contouring hair color and updating your haircolor to a color that will enhance your skin tone. If you need your haircut or hair color fixed I'm your guy.  I've never encountered a haircolor disaster that  has been unable to fix. Book here.
---
Hi, my name is Monica
We proudly welcome Monica, aesthetician, to our Indulge team.  I earned my Cosmetology license in 1993 and worked as a hair stylist for 4 years.  My passion changed to skin care. I then graduated of Von Lee International School of Esthetics in 2001.  I now bring  17 years of experience in both the Day and Medical Spa environments.  I'm originally from Spring Grove but worked previously in Maryland at About Faces.  My personal choice to join the Indulge team because of the dedication to educate, pamper, and deliver improved results for clients.  Specialties are anti-aging facials treatments, acneic skin care, dermablading, sensitive skin such as Rosacea or  chemical peels and body waxing for both men and women. I am one of the few esthetician's that enjoy brazilian waxing and bikini waxing. As uncomfortable as it might be for the first timer, this is what I do and will help you be more comfortable as I explain the process. Let me help your young adult take care of their skin and grooming regimens the right way. Teen facials are one of my interests because we can make a difference in their attitude towards how to care for their skin the right way. 
I really enjoy helping my clients achieve results with customized skincare treatments.  I am more of an authority with extensive training in Make-up Artistry through MAC Advanced Make-up Classes and will deliver beautiful applications for an everyday look, bridal makeup or special occasion glam.  Book here.
I spend my time with two wonderful daughters and our four-legged bff, Ryley, an adorable German Shepheard mix.