East York Salon
Hi I'm Olya

Hi I'm Cristine

Hi I'm Ashly

Hi I'm Tracy

Hi I'm Emily
My name is Tracy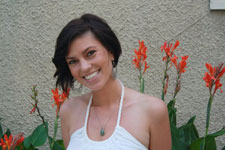 and I'm thrilled to return to York and working at Indulge Salon. I love sharing all of the great hairstyling techniques I've learned over the past 16 years, including seven wonderful years at Indulge and one-and-a-half years in Baton Rouge (LA).
Indulge gives all of us an environment where we can grow as stylists because Kimberly keeps us up to date on every important trend – through advanced hair cutting, color and straightening classes with some of the industry's best, like Jamison Shaw in Atlanta and Wella's Colors of the World, and on-going training with Kimberly, herself. I recently attended an advanced haircutting class in New York City 2013, Anthony Cress a national educator who specializes in advanced barbering, disconnected textured haircuts. My speciality is men's haircutting and styling. Its fun to give all of my male clients a fun new haircuts to keep them updated. If you are bored and need an update give me a call. If you are short on time and need to get in and out that is easy for me to do. Especially if you are a Dr and need to be called on short notice, this works for me. Clipper cutting, shear over comb, texturing cuts are the coolest haircutting techniques  to execute.
All of my hairstyles are polished and finished to high gleam. The finished look is so important to my layered cuts. Texturizing with razors and shears can make a difference in the end result of a hairstyle. By giving the hair a shake to see the finished look really shows a good haircut. If you like detail oriented haircuts and color than call me. French haircutting and styling has allowed me to enjoy my techniques even more. Colorful, bright tones in reds, brown and gorgeous blondes get me excited to come to work. The amount of highlights and lowlights that are placed in the hair can give the hair the illusion of shining like a diamond. I LOVE diamonds how about you?! Multi-dimensional haircoloring is what my expertise is in for the women that has it all and wants more.
As a senior stylist I specialize in the softer trendy hairstyles and enjoy working with clients to give them a look that brings out their best, especially when it involves extreme changes. That's the real challenge.
My personality is bubbly and talkative, so if you're searching for a lively stylist. . that would be me! The weekdays are my schedule because my viva fabulousness is off traveling on the weekends having fun enjoying some vino with family and friends.
---
Hi my name is Emily
My name is Emily. I studied cosmetology at Metro Beauty Academy in Allentown, Pennsylvania as well as Tri State Cosmetology Institute in El Paso, Texas. I was apart of the first class at Metro Beauty Academy to learn the Sassoon way of cutting before continuing my education In Texas.
Throughout my education and previous experiences I've come to realize my passion and love for cutting, coloring and styling medium to long hair. I love adding layers, removing bulk and overall transforming and adding movement back into it!
Also throughout my developing career I have done weddings and special events where I took on the tasks of doing makeup and updos. I have such a passion for doing full face makeovers and elegant updos on my clients, enhancing their natural beauty. There is nothing more fulfilling and satisfying for me than seeing a smile upon my clients face on their special day
I am so blessed to call indulge my new home and I am very anxious to grow as a stylist and learn from the best, Kimberly!